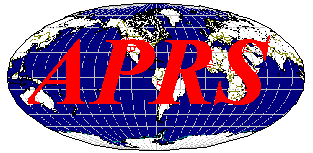 A

UTOMATIC

POSTION REPORTING SYSTEM
OR

APRS™

---
APRS™ is a multifaceted system for use with packet radio by Hams, it allows the monitoriing of real time
geographical information such as the position of vehicles, the status of weather, radio direction finding and
much much more. It envolves mapping, GPS tracking, packet radio, etc. It is a VERY interesting facet of packet
radio and has much to offer most everyone including non-hams that just want to watch over the internet.
APRS™ is a method of transmitting information via 'packets' on a radio system. It is used by amatuer radio enthusiasts for the real time monitoring of geographical information
e.g. location
coarse and speed
weather information

APRS is a technology that uses digital maps, and GPS receivers to track objects.
It tracks objects using PACKET RADIO
It can use repeaters
GPS - Global Positioning System
The information is displayed on a digitized computer map, can be logged and played back.
It was developed by Bob Bruninga WB4APR for the PC when he wanted a cost effective mapping program that would allow positioning of mobile stations using GPS receivers.

What You Need to Use APRS
Manual Location
Minimum of 486 Computer, TNC, Radio
Dumb Terminal, Map, TNC, Radio
Automatic Position Reporting
GPS, TNC that supports GPS modes, Radio
GPS, computer, TNC, Radio
The PacComm Dual Port Pico-Packet is the TNC of choice for mobiles
Automatic Weather Reporting
Ultimeter, Computer, TNC, Radio
Ultimeter, TNC, Radio

APRS is a developing technology that works well with existing packet technology. It uses the Internet where it is best, and Packet where it is best.
If you are interested in more details on APRS, visit the APRS homepage.
Suitable computer software can be found at the following sites:-
WinAPRS - written by Mark Sproul, KB2ICI and Keith Sproul, WU2Z.
UI - View - written by Roger Baker, G4IDE, the author of the WinPack packet programme. The latest software can be downloaded from this site.

ZL1AMW's UI-View Resources
APRS in New Zealand

Copyright © 2000- Gavin W Petrie - All Rights Reserved